Gujarat Talati Bharti 2022 | gpssb.gujarat.gov.in
Gujarat Talati Bharti 2022 | | gpssb.gujarat.gov.in: The Gujarat Panchayat Seva Selection Board, GPSSB has released an employment notification inviting candidates to apply for the positions of Talati Cum Mantri Posts. This is a great chance for interested candidates who are looking for GPSSB Talati Recruitment 2022.
Talati Cum Mantri Syllabus : Click Here

GPSSB Talati Syllabus 2022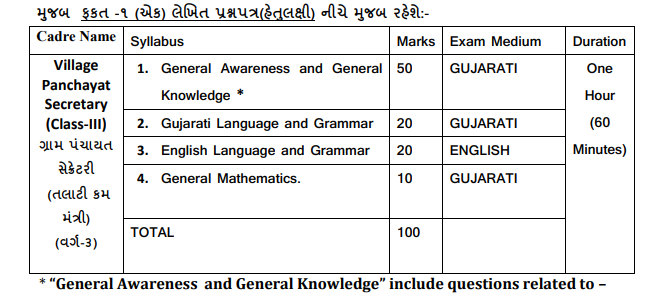 *🔴🆕💫તલાટી કમ મંત્રી ના ફોર્મ ભરવાની મુદતમાં વધારો*


GPSSB Talati Syllabus 2022
How to Apply For GPSSB Talati Vacancy 2022

Eligible candidates who fulfilling the criteria as per the notification or the Above Details can apply Online Through the Official Website @gpssb.gujarat.gov.in OR ojas.gujarat.gov.in


First of All, Applicants Need to Visit the Official Website at gpssb.gujarat.gov.in
Then Find Out Recruitment Rules Section on the Gujarat Panchayat Service Selection Board New Website.
Now You Can See Gujarat Panchayat Vibhag Bharti Notification PDF and Download It.
Read the instructions carefully and follow the instructions given in the Notification.
Now, You Can Click on Apply Now Button.
Now you are on the Online Application Procedure for Online Job Application System Portal
then Register Your Self on the Official Website Or If You Are Already Registered then Login With Your ID and Password.
Fill up Required Personal, Education Details
Upload Required Document
Pay Application Fee Through Online Mode
Check Completed Details and Submit Application.
After submitting download the Application PDF and Printout it for Future Use.
GPSSB Talati Job 2022 Schedule
Events Important Dates
GPSSB Talati Bharti 2022 Starting Date 27th January 2022
Last Date 15th February 2022
*🆕સિલેબસની સમજૂતી*
⚖️તલાટી પરીક્ષા *સિલેબસ, પરીક્ષા પધ્ધતિ, માઇનસ માર્કિંગ અને અન્ય* મહત્વની બાબતોની સ્પષ્ટ સમજૂતી એકવાર અવશ્ય નિહાળો
જે લોકોએ ફોર્મ ભર્યો કે ભરવાના તેમાટે ચોક્કસ ખૂબ મહત્વની માહિતી👇👇👇
GPSSB Talati Recruitment District Wise List 2022
Candidates from Gujarat who are looking for GPSSB recruitment are informed that before applying in GPSSB Talati Bharti Recruitment 2022 important information such as educational qualification, age limit, application fee, selection process, application process etc. Get complete information carefully.


GSSSB Talati Old Paper 2017 PDF Download

Question Paper | Answer Key

Talati Previous Paper 2016 PDF Download

Question Paper | Answer Key

Gujarat Talati Question Paper 2015 PDF Download

Question Paper | Answer Key

GSSSB Talati Paper 2014 PDF Download

Question Paper | Answer Key

Talati Old Paper 2010 PDF Download

Question Paper | Answer KeyImportant LinksGPSSB Recruitment portal http://gpssb.gujarat.gov.in/GPSSB Official Website
Click H
e
re
GPSSB Talati Advertisements
Cl
i
ck Here
GPSSB Talati Notification
Click Here
GPSSB Talati Exam Date
Exam
GPSSB Talati Answer Key
View Ans
w
er Key
GPSSB Talati Results
View Results
GPSSB Talati Provisional Merit List
View Merit List
GPSSB Talati Final Selection list
View Selection list
GPSSB Departmental Exams
View Departmental Exams
Talati Bharti 2022Gujarat Talati Bharti 2022 | gpssb.gujarat.gov.inGPSSB Talati Recruitment 2022 | gpssb.gujarat.gov.in: It is a good opportunity for all the interested candidates who are looking for jobs in Gujarat Panchayat Seva Selection Board, GPSSB. Before applying for the post, candidates should ensure that he/ she fulfills the eligibility criteria and other conditions mentioned in this advertisement. આ પણ જુઓ : અત્યારે ફોર્મ ભરવાના ચાલુ હોય તેવી તમામ નોકરીની જાહેરાતThe last day for registration is 15-02-2022. Candidates are advised to carefully read the full advertisement for details of educational qualifications and other eligibility criteria before submitting of application. more detailed information regarding educational qualification, age limit, selection procedure, how to apply, last date for GPSSB Talati Recruitment 2022 is mentioned below.Gujarat Talati Recruitment 2022 Name of Organization: GPSSB ADVT. No. 10/2021-22Total No. of Posts: 3437Name of the Posts: Talati Cum Mantri Job Location: GujaratMode Of Application: Online Official Website: gpssb.gujarat.gov.inEducational Qualification:Have passed the Higher Secondary School Certificate Examination conducted by Secondary and/ or Higher SecondaryEducation Board or possess an equivalent qualification recognized by the GovernmentAge Limit A candidate shall not be less than 18 years and not be more than 36 years of age.Read More *😱 ગજરાત પંચાયત સેવા પસંદગી મંડળ (GPSSB) માં ભરતી..*
🔥છલ્લા 5 વર્ષો ના તલાટી અને જુનિયર🔥 કલાર્ક ના પેપર Download કરો
PDF માં
Download Paper Link👇
50 તલાટી મોડેલ પેપર
click here download