New vacancy vadodara
VMC Junior Clerk Recruitment 2022.
VMC Junior Clerk Recruitment 2022 : Vadodara Municipal Corporation (VMC) Vacancy For Junior Clerk, Revenue Officer, Sub Sanitary Inspector, MPHW & Word Officer Post 2022,2022 – Post Name , Educational Qualifications Detail
Read in Official Advertisement Below Useful Link.


VMC Junior Clerk Job 2022 Schedule
Events Important Dates
VMC Vacancy 2022 Starting Date 16th January 2022
Last Date VMC Job 10th April 2022

How To Apply ?

Interested Candidates may Apply Online Through official Website https://vmc.gov.in/
Important Links
VMC Recruitment portal https://vmc.gov.in/
VMC Official Notification View Notification
Apply Online Click Here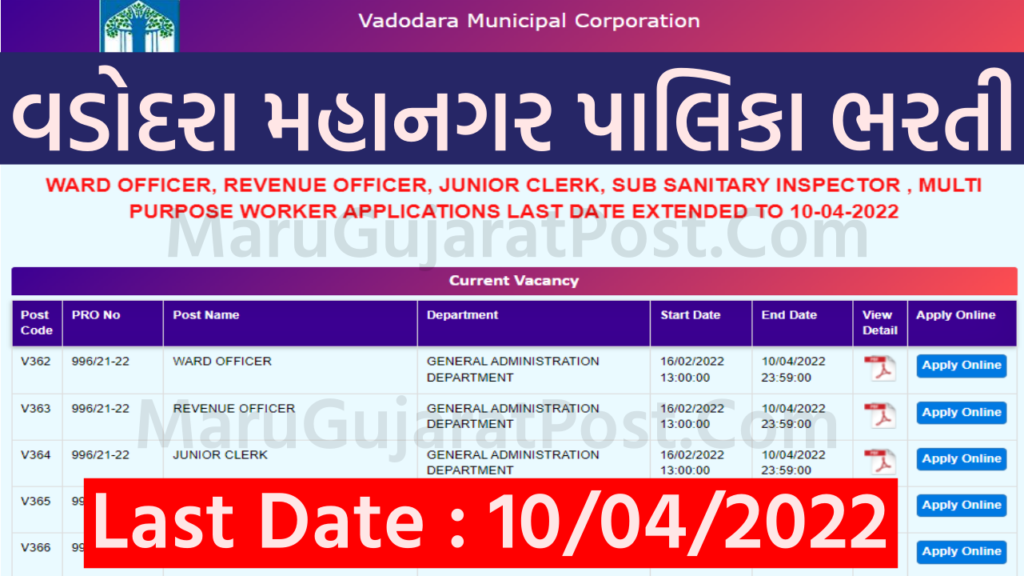 VMC 648 Junior Clerk And Other Posts Recruitment 2022 @vmc.gov.in
Dictionary app provides all language Translator OCR vocabulary idioms & phrases
i-Dictionary is a Dictionary & All Language Translator App provides Translator for text translation to translate free , free offline dictionary gives definition synonyms and meaning of the words , OCR text reader translate the text in the image into any language , improve vocabulary idioms and phrases with idioms and phrases dictionary and vocabulary builder .

Dictionary app provides all language Translator | English to Hindi dictionary and translation OFFLINE | Online learning app,

You feel embraced when texting with someone? Finds it difficult to understand the vocabulary. Don't worry : Dictionary & All Language Translator will solve all your problems as it provides its user dictionary. All Language translator feature to translate into all languages.

i-Dictionary: Dictionary & All Language Translator can improve grammar, Grammar Check points out the grammatical mistakes, removes the spelling mistakes. All languages translator removes barrier as Dictionary app free provides the all language translator.

languages.
• Listen to translations in male or female voices.
• Switch between different dialects when you translate.






VMC Recruitment For Security Guard | Peon | Midwifery And Other Post 2022 @vmc.gov.in




VMC Recruitment 2022

Post : Various

Total Post : 33
Post Wise Details

Midwifery : 11
Aayaben : 09
Security Guard : 11
Peon : 02
Education Qualification :

Midwifery :

Basic BSc or Post Basic BSc (Nursing) degree from an institution recognized by Indian Nursing Council – OR
Diploma course in General Nursing and Midwifery from an institution recognized by Indian Nursing Council or Gujarat Nursing Council – AND
Post Basic Diploma Course of Nurse Practitioner Midwifery from an Institution Approved by Indian Nursing Council – Compulsory
Commuter course from a recognized institute.
Salary : 30000/- + Incentive
Aayaben :

At least 8th standard pass, 3 years experience.
Salary : 8500/-
Security Guard

Must have passed Std. 8 as well as complete knowledge of Gujarati language.
Army ex-servicemen preferred.
Salary : 8500/-
Peon

At least 8th standard pass, English proficient Preferred.
Salary : 8500/-

Age Limit

Not More than 58 Years
VMC Peon Recruitment 2022
Important Note : Before Apply Please Read Official Advertisement For Desirable Qualification, Experience, Age Relaxation Or Other Terms & Condition.
How To Apply:

Interested Candidates may Apply Online Through official Website.
Last Date:

Online Application Start From : 25-02-2022
Online Application Last Date : 11-03-2022
Official Notification | Apply Online
• Dictionary & Thesaurus for all languages
• Transliteration, Sharing, Favorites, History, and much more.

PRO FEATURES
• Lens: Use your camera to instantly translate menus or signs and more.
• Offline translation mode in over 40 Languages.
• Voice-to-Voice conversations.
• Verb conjugations in different tenses.
Notification જોવા માટે અહિયાં ક્લિક કરો
i-Dictionary: Dictionary & All Language Translator is an offline dictionary all language app. Remove your language barriers. Offline Sentence Translation i.e OCR text reader is also available.
i-Dictionary: Dictionary & All Language Translator is beyond a simple dictionary ! Effortlessly translate texts, pictures, or conversations by following the simple steps. It meets all languages translator needs, including study, work and traveling abroad.
i-Dictionary: Dictionary & All Language Translator Features :
• Free offline Dictionary Check dictionaries in all languages
• Text Translator : Translate languages
• Camera Translation OCR text reader Snap to instantly translate any text
• Conversation Translator : Voice to voice translation between different languages
• Grammar Check : Check English text and easily correct mistakes
• Learn from number of authoritative word definitions
• Translate between all languages
• Copy words or sentences from any app and get meaning instantly
• Authentic UK (British) and US (American) accent
• Audio pronunciation for each of the words in the app
• Learn English Vocabulary
• Popular English Idioms & phrases
• English idioms Dictionary
• Learn English with ease and fun.
• Learn English with the help of fun Quizzes .
VMC 648 Junior Clerk And Other Posts Recruitment 2022

Name of Organization: Vadodara Municipal Corporation

Total No.of Posts: 648

Name of the Posts

Ward Officer : 04
Revenue Officer : 07
Junior Clerk : 552
Sub Sanitary Inspector : 10
Multi Purpose Worker : 68
Category: New Jobs

Job Location: Gujarat

Mode Of Application: Online

Advertisement Published Date:16-02-2022

Starting Date To Apply Online: 16-02-2022

Last Date To Apply Online: 28-02-2022

Official Website:vmc.gov.in

Educational Qualification:

Updates Soon

Age Limit

Updates Soon.

Pay Scale

Updates Soon

Selection Process

Updates Soon

Note: full details of Educational qualification, Age limit, Pay scale, Grade pay ,selection process etc details candidates required to visit official notification which link given below at this vacancy notice.
How to Apply VMC Recruitment 2022?

Interested & eligible candidates may apply Online through Official website.

What is The Last Date For Applying VMC Recruitment 2022?

Starting Date for Submission Of Online Application : 16-02-2022

Last Date for Submission Of Online Application : 28-02-2022

Important Links for VMC Recruitment 2022




cation More Information Please CheckNotification


Short Notification |Apply Online
Important Dates
Online Application Start Date:16/02/2022
Last Date For Application:28/02/2022
Important Links for VMC Recruitment 2022
Official Notification click here
Apply online click here
Short notification click here
Important Dates
Opening time 12:00 (Noon) on 21/02/2022
Closing time 12:00 (Noon) on 22/02/2022
BUILD VOCABULARY
This app has lakhs of English and Hindi words. It helps in building your vocabulary by daily words meaning, word of the day alerts, and word of the day videos. You can find words and track them for learning. You can practice word learning by playing word games like hangman, scrabble, crossword. This app has a spell-checking tool that can tell correct or wrong spelling for words. Audio pronunciation tools help in listening to the correct sound of words
HINDI TO ENGLISH DICTIONARY AND TRANSLATIONHinKhoj Dictionary is one of the best and most downloaded app to find meaning and definition in English for Hindi words. Translate Hindi words to English quickly using this app. You can type in Hindi directly and find meaning in Hindi English dictionary. It can help in reading a daily newspaper in English.
VOCABULARY BUILDING FOR COMPETITIVE EXAMSHinKhoj dictionary provides flashcards, educational vocabulary building videos, word banks for professionals, students, and academics. Students can use the free dictionary to improve vocabulary for SSC, IBPS, Bank PO and various competitive examinations
LEARNING APPThis app can help in learning both Hindi and English language. Words are provided with proper grammar usage like Noun, Verb, Adjectives, Pronouns, etc. Many idioms are explained via examples. Difficult words are explained with examples and detailed definition. Daily word learning help in building vocabulary for language. Synonym of words helps in knowing similar words and antonym of words help in knowing the opposite meanings. Spell checker can help in avoiding common mistakes. One can track search history and mark words as favourite.
TRANSLATION COMMUNITYLakhs of people are connected through our app to help each other in answering questions related to dictionary and translation. Ask our experts to get meaning and translation of sentences in the app

Practically is India's first experiential learning app, designed to make learning immersive and increase retention in STEM subjects for students of class 6th to 12th. It is the only self-learning app that enables STEM learning through immersive videos, interactive augmented reality, and 3D simulations. Practically app is the one-stop solution for all your learning needs.



This intelligent, interactive, and immersive learning app revolutionizes the way students can learn, understand and apply scientific & mathematical concepts. The hands-on learning app bridges the gap between theoretical learning and practical application with:

👨‍🏫 Life-like video content

🏫 Experiential learning

🧠 Augmented reality learning

🗣 Interactive learning

👨‍💻 Live classes online

📟 Coding classes for children

🤳 AI-assisted learning

💁‍♀️ Study plan

📱 Scan anything

Learn To Code Online – Learn how to code from scratch with Coding++ online classes.
❓ Resolve Your Doubts – 24X7 Seek Help feature enables you to reach out to subject experts on the platform to resolve your doubts. Also, you can get answers to all your questions from Proton! Your 24/7 AI study buddy.

🏁 Challenge Fellow Students – Challenge & compete with anyone from the pool of students and test your problem-solving skills and conceptual knowledge.

💁‍♀️ Study Plan – Plan your studies on a regular basis & stay organized by tracking your performance. Improve your learning & save your time by setting a due date to complete each chapter!